Granite Plains Farm
Our Story
Granite Plains was started as a two acre family operation in Marble Falls, TX that was committed to raising pure chicken breeds known for superior quality eggs.  With flock rotation there typically were about 8 hens in the pasture at a time which gave them plenty of free range to achieve the best possible eggs from the best possible hens.  A few of the original breeds at the Marble Falls, TX Farm are listed below. The Texas Farm was sold in June of 2015 when Anne & Curtis moved to Oklahoma with a job transfer.  The original farm was sold to a recently retired couple that retained much of the breeding stock and continue to mange the farm independantly.  At the Granite Plains II location in McAlester, OK there is a one breed flock of Cream Legbars.  It was a dream of the founders to have a traditional one-breed flock so that breeds didn't have to rotate time on the field and so that everyone on the property could free range 24/7.  So... the Chicken Mansion which is a 10' x 25' hen house with seprated area for each breeding group remained at the original farm in Texas and the new Granite Plains II has a very simple 16 hen coop with 500 square feet of pasture per hen fenced around it.
The Black Copper Marans: This is a breed developed in France and its eggs are the #1 choice for 5-star cooking. The Marans produces an extra large egg with a dark brown shell that is thicker and has smaller pores that other breeds of chickens. This unique shell provides for a fresher longer lasting egg. Some research indicates this shell can even keep salmonella out of the egg. In his books Ian Fleming listed the Black Copper Marans as the favorite egg of James Bond.  Martha Stewart is also a long time advocate of the Marans eggs in gourmet cooking.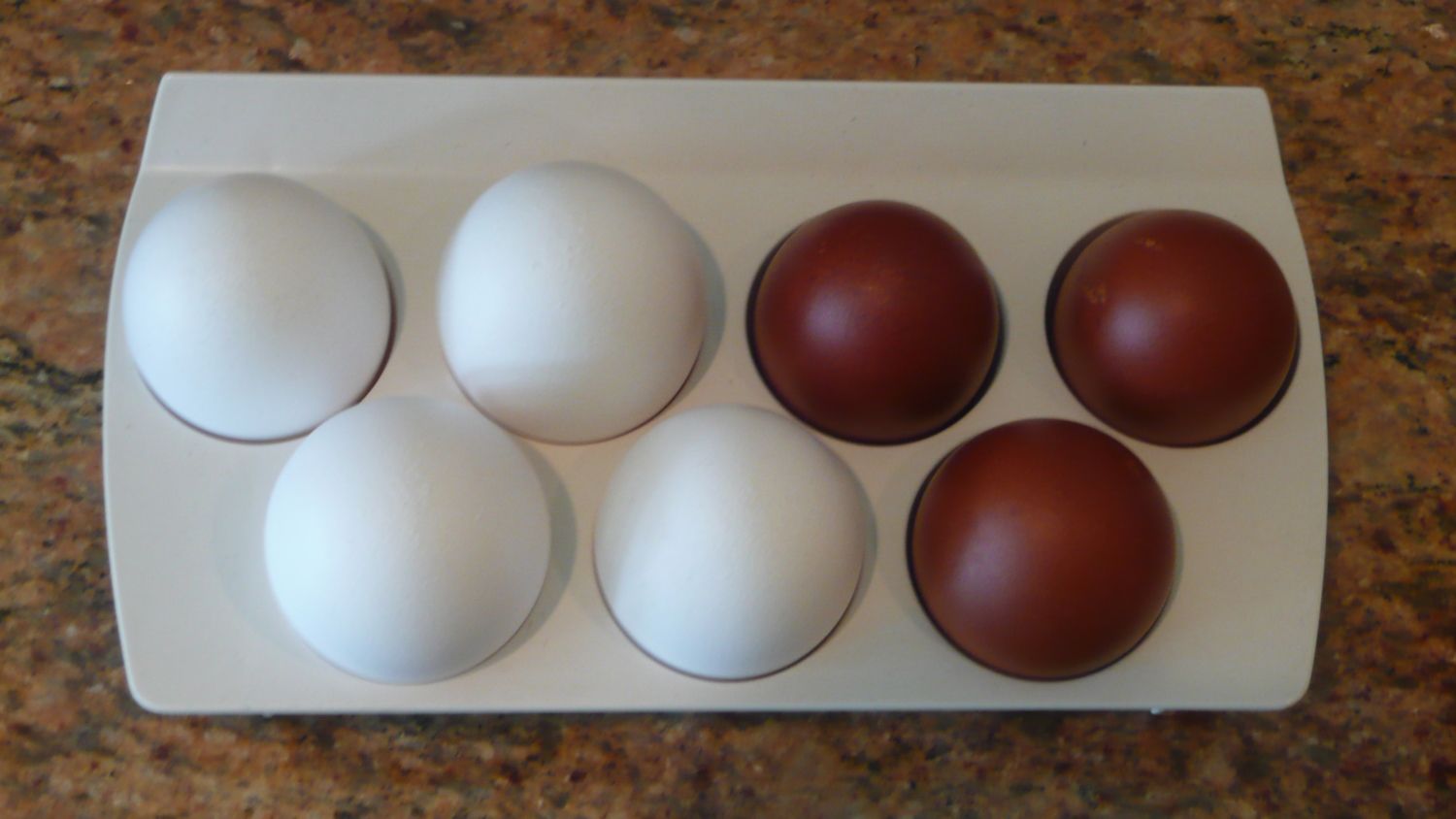 The Cream Legbar: This egg is most noted for its blue-green egg shell. It was developed in the 1930's by the Cambridge University Breeding Program in England by renowned geneticist R.C. Punnett.  Punnett achieve both a fun and practical laying breed. They produce colorful eggs and still are productive layer of eggs that are larger than those of other blue egg laying breeds.  They are very popular for poach egg recipes. Chef Gordon Ramsey has been actively educating restaurants in the UK on the value of thefree range eggs from commercial blue egg Legbar Hybirds that are offered at high quality stores there and encouraging them to use them to improve what they offer in fine dining.  This breed was imported from Europe by Greenfire Farms in 2010 and is still rare in the USA.
The Euskal Oiloa (Basque Hen): This breed was developed from village flocks in northern Spain and was given a place in the Ark of Taste for both its egg and meat qualities. It lays an extra large coral colored egg with a very smooth glossy shell.  Additionally, this breed is know as one of the friendliness chickens in the world.
---
News & Answers
12/10/2016 - Curtis hosted the Souther Regional Cream Legbar Club meet at the Shawnee, OK APA show today.  Sixteen Cream Legbars were on exhibit.  Our hens took best of breed and reserve of breed.  
_____________________________________________________________________________
9/10/2016 - Granite Plains II entered 5 Cream Legbars in the Oklahoma Pittsburg County Fair.  We were the only Cream Legbars at the show, but the group showed really well.  This pullet took best of breed.  This was the top placing cockerel.  
_____________________________________________________________________________
Curtis was appointed to be the 2016 Southern Regional Dirrector of the Cream Legbar club.  This is a one year commitment to finish out the elected term of the previouse Regional Director.
_____________________________________________________________________________
The founders of Granite Plains entered two pullet and one cockerel from our 2015 Hatch that will be the foundation of the new Granite Plains flock in Oklhoma in the October 20, 2015 Cream Legbar Club's on-line poultry show.  They cockerel placed 4th and one of the pullets placed 2nd.  The first place pullet that beat us out was named best of show out of the 107 entries so we felt pretty good about how well our birds showed.
Cream Legbar Cockerel in On-line Show
Cream Legbar Pullet in On-line Show
_____________________________________________________________________________
The founders of Granite Plains will be moving to McAlester, Oklahoma June 2015 where they plan to rebuild a Cream Legbar flock.  They have decided to go to a one breed flock so that they can devote more time and resources to developing quality Cream Legbar breeding lines in the USA.  The new owners of Granite Plains in Marble Falls will be keeping some of the key Cream Legbar breeding stock as well as Basque Hens and possible Black Copper Marans.
_____________________________________________________________________________ 
Granite Plains would like to contradulate the Caldwell family of Dripping Springs, TX.  Granite Plains was their sponsor for a 4H project where they, along with 5 other 4H families, raised Cream Legbars and showed them at the Texas State fair the 11th of October 2014.  The exhibit was followed by a breed evaluation to aid sponsorers and Cream Legbar breeders across the country in inprooving the Cream Legbar breed to the level that would be required for offical breed recongition at poultry shows in North America.  Of the 30 Cream Legbars that were exhibited the Caldwell family produced the bird that won Best of Breed. 
_____________________________________________________________________________
Granite Plains competed at the Fancy Feathers Poultry Show on March 15, 2014 in Dripping Spring, TX where Curtis held the South Regional Cream Legbar Club Activity and hosted a Club table.  At the Show we participated in the egg show held at the Marans Chicken Club table and won the people's choice award for the best set of eggs.  
_____________________________________________________________________________
Granite Plains competed at the Brazo Valley Poultry Club's Winter Egg Contest at the Blue Bonnet Classic Poultry Show on January 4, 2014 in College Station, TX.  There was a lot of talk about our Black Copper Marans eggs since most people (Marans owners included) had never seen eggs as dark as what we entered in the contest. We placed 4th place in the Open Brown Egg Catagory.  In the Open APA Poultry show Curtis had the first place Black Copper Marans Rooster (3rd photo down on right). He went on to place 2nd out of the 26 entries in the Black Copper Marans Varriety.
_____________________________________________________________________________  
Anne was asked to do a presentation on processing chickens for a local event in August 2013.  We were a little supprised since we only keep chickens for the eggs, but she did a great job with a focus of self-raised meat & eggs vs. commercialy raised meat & eggs.  We will try to get her to post some of the presentation on the Mother Hen's Garden, Kitchen and Coop blog.   
_____________________________________________________________________________
Curtis was asked to be the President for the Cream Legbar Club for 2013-2014.  He felt honored by the invitation and looks forward to working with producers across the country to advance this beautiful breed and their remarkable eggs.